Made from the sea

your skins new best friend.

Leading an itchy revolution
$29.99$24.95
Guaranteed secure & safe checkout.
Introducing The Ocean Healed My Eczema™ - the ultimate natural solution for those seeking serenity from eczema's persistent grip. Made with care amidst the tranquil shores of Hawaii, this miraculous cream harnesses the power of the ocean's bountiful treasures to deliver unparalleled magic. Dive into a world of pure bliss as your skin experiences the transformative touch of sea moss and oats.
Our heros
Sea moss + Oats

Sea Moss and Oats are combined to create a powerhouse of vitamins and minerals that help provide intense moisture for the skin. Sea moss is rich in Vitamin C and B-Complex vitamins, which help to reduce inflammation and provide antioxidant protection. Oats are rich in Beta-Glucan, which help to lock in moisture.
Shea + Vitamin e

We added a good dose of shea butter relieve dry skin and lock in moisture reduce inflammation. Vitamin E helps with cell restoration and reducing inflammation. These ingredients make for a great moisturizer for those suffering with Eczema and Psoriasis.
Aloe + Sunflower seed

Aloe vera and sunflower are excellent natural remedies for eczema. Aloe vera soothes skin and promotes healing. Sunflower oil is rich in antioxidants and calms + protects the skin.
Jojoba + Hemp seed oil

Hemp seed oil and jojoba oil are often recommended for treating eczema and sensitive skin due to their unique properties. Hemp seed oil is rich in essential fatty acids like omega-3 and omega-6, which help to rebuild the skin's protective barrier and maintain hydration. It also contains anti-inflammatory compounds and antioxidants like gamma-linolenic acid and Vitamin E, which can aid in skin regeneration and protection. On the other hand, jojoba oil closely mimics the skin's natural oils, making it an excellent moisturizer that's also non-comedogenic, meaning it won't clog pores.
Black cumin

Black cumin seed oil stands out for its antimicrobial and anti-inflammatory qualities, thanks to active compounds like thymoquinone. These properties can help soothe irritation and reduce inflammation, making it a useful option for those with sensitive skin or eczema. Unlike hemp and jojoba oils, it also has a more potent antimicrobial profile, offering an added layer of protection against skin infections.
Total 5 star reviews: 400
Total 4 star reviews: 48
Total 3 star reviews: 19
Total 2 star reviews: 4
Total 1 star reviews: 4
94%
would recommend this product
Customer-uploaded media carousel. Press left and right arrows to navigate. Press space or enter to open more details.
Slide 1 selected
Honestly….

I Believed in the ocean healing eczema before this product . Mods that I got to try it out it has significantly reduced the flare ups on my kids skin. I am beyond thankful for this product giving my kids the much needed relief they needed without me having to spend thousands to send them Hawaii .

BUY THIS!!!

I'm 30 and just got eczema last year for the first time. I only get it on my left elbow. When I tell you this product worked in 5 days my eczema cleared up. I'm shocked!!

AMAZING

it truly cured my eczema after months of everything not working this worked overnight!!

that picture is from 2 days of using it and my wrist was bleeding it was so red and dry

So far so good

I've only been using this for a week and I have noticed that my hands feel more hydrated but I haven't seen an improvement in itching yet. But I can say there has been an improvement overall and it has been much better than other creams I've tried.

A Miracle

My daughter would cry every night in pain. She said" All I want for Christmas is my eczema gone!" Out of desperation I ordered The Ocean Healed my Eczema. We received it on Monday, by Friday the swelling is down, not as itchy and the redness is subsiding! That's only five days! This is a true miracle! Thank you, Thank you, Thank you!!!
Reviews Loaded
Reviews Added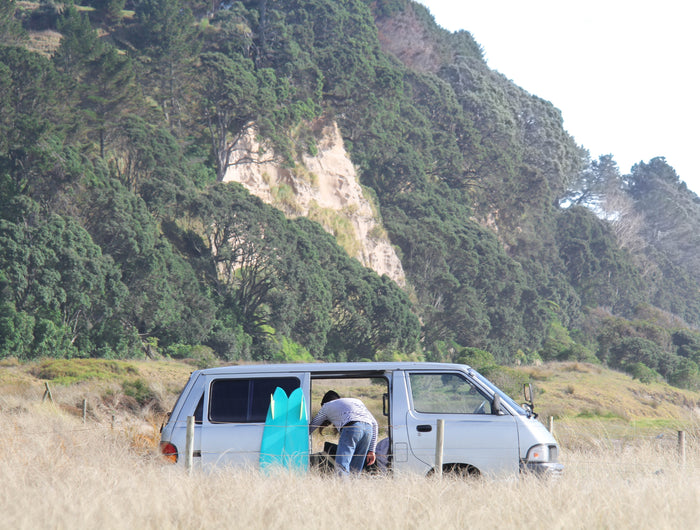 Morning and night
Use anytime.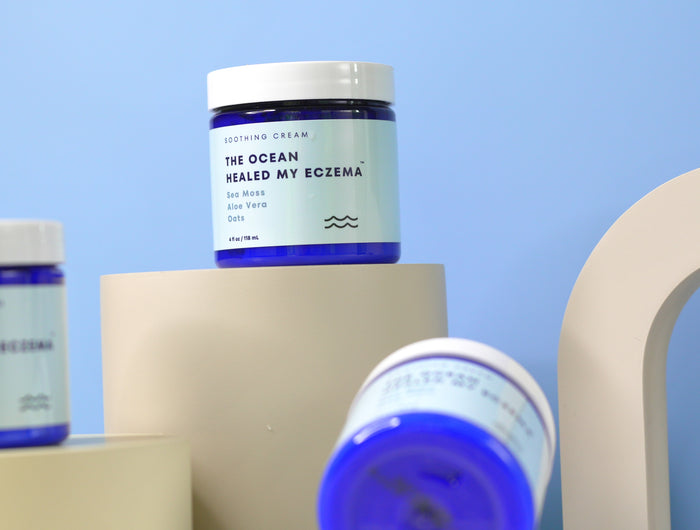 Store in fridge
for extra cooling
Subscribe for more tips
hope for the eczema community
Our ultimate goal is to be a beacon of hope for the eczema community. We are dedicated to crafting safe and effective products that genuinely work to bring soothing relief to those battling with eczema. However, we strive to be more than just a cream; we are building a supportive eczema community where sufferers can come together, share testimonies, and find hope in each other's experiences. Together, we are stronger, and together, we will conquer eczema and embrace a life full of hope and empowerment.
Discover the restorative power of nature with our Ocean Healed My Soothing Cream. Crafted meticulously with intentional natural ingredients, this soothing cream is a tribute to purity, effectiveness, and sustainability. We harness the goodness of the earth, ocean, and botanicals to create a formula that's as kind to your skin as it is to the planet. With zero artificial additives, our all-natural soothing cream offers you an authentic, gentle soothing experience—just as Mother Nature intended.